Q
uestions you may have after the two jaw surgery
-
from my personal experience ;D
Before double jaw surgery - Facial asymmetry, protruding jaw, malo
I can say almost all swelling would be gone within 6 months after surgery.
Now it's been 7 months and if I compare current face to the photos taken after 4 months, there's no big difference. The hospital also said I will lose almost all swelling within 6 months. However I don't believe it has disappeared completely yet. I can still feel a bit of swelling when I smile or move my mouth. Inside of my mouth also has slight level of swelling. I think it may take up to 1 year for the full, complete recovery. But clearly, you wouldn't have to worry about the big swelling after 3~4 months.
My face still looks asymmetrical even after the surgery!
I didn't I have 100% symmetric face even after the surgery for few months. This is because you may lose swelling differently for the both sides. I was wearing a mask for longer period for this reason too. I started giving an extra massage for more swollen side and it became much better. It's just both sides looks slightly different due to remaining soft tissues or amount of muscle.
I recommend you do the massage on a regular basis (especially for the worse side!) and try to have light exercise to lose swelling quickly. My face still don't look completely even (Which cannot be achieved anyways) , but it has improved very much and other people cannot really tell that I had facial asymmetry before!
I sometimes have shooting sensation and pain.
Is there something wrong?
First of all, if the pain is not severe, I believe you don't need to worry about it.
But I have quite sensitive personality myself and my sensation has returned more quickly than other patients, so I felt extra pain I guess.
Well, sometimes I felt quite severe pain, but this is one phase of sensation and hardened muscle returning to normal. I just had some pain killers whenever I felt a bit of pain. Then I feel just fine the next day! If you're still worried, you can do the warm towel massage or do some light exercise that is good for your blood circulation. I remember I felt these feelings until 2 months after surgery. Now that I recall, that was all good sign of my body recovering. So don't worry!
My face still gets swollen whenever I go to see my orthodontist, I think this is normal though.
If teeth are not in a good condition, your gum will be swollen and as a result, your face gets swollen too.
When I change the correction wire, I get a bit of swelling for whole week. So I start thinking final result can be seen when this whole orthodontic procedures done. I need to be a bit more patient~
I am still being careful when I eat something. But i heard normally patients can start eating quite normal food after 1~2 months. In my case, I had asymmetrical problem because of swelling and my teeth position, so I couldn't chew 100% properly. But as time goes by, I slowly started eating more various types of food. When my teeth got aligned, i could chew much better. But still not 100% for me because I want to be extra extra careful! haha
Above answers are only based on my personal opinion and experience.
I also got my nose done after the orthognathic surgery, I feel very satisfied with my surgery result of both rhinoplasty and two jaw surgery.
My face looks very well balanced now and my nose turned out so pretty!
I'm posting some photos below for your reference!
And please remember, try to be patient and don't worry too much until you get the final result :)
I also would like to say thank you for Dr. Sang Hoon Park who performed my surgery. And to other medical staffs of ID Hospital who helped me a lot! I cannot thank you enough because you guys changed my life!
Becoming beautiful is important, but most important thing is safety remember!
I appreciate that I didn't have any side effect or any other problems from the surgeries.
I hope you find your own beauty too at ID Hospital :D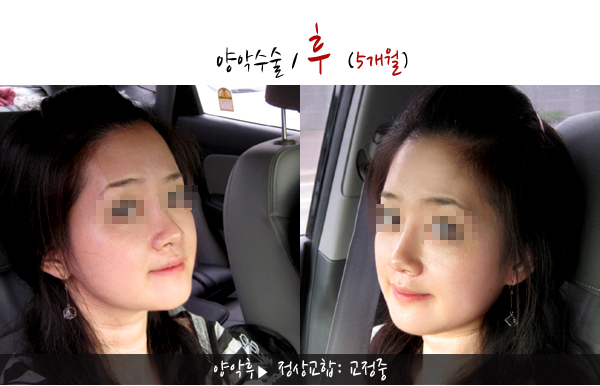 After double jaw surgery (5 month) - Malocclusion corrected, still in progress of post orthodontic treatment
After double jaw surgery (6 months) + Nose surgery
Nose surgery after double jaw surgery - Barbie line nose surgery (Bridge augmentation + tip plasty)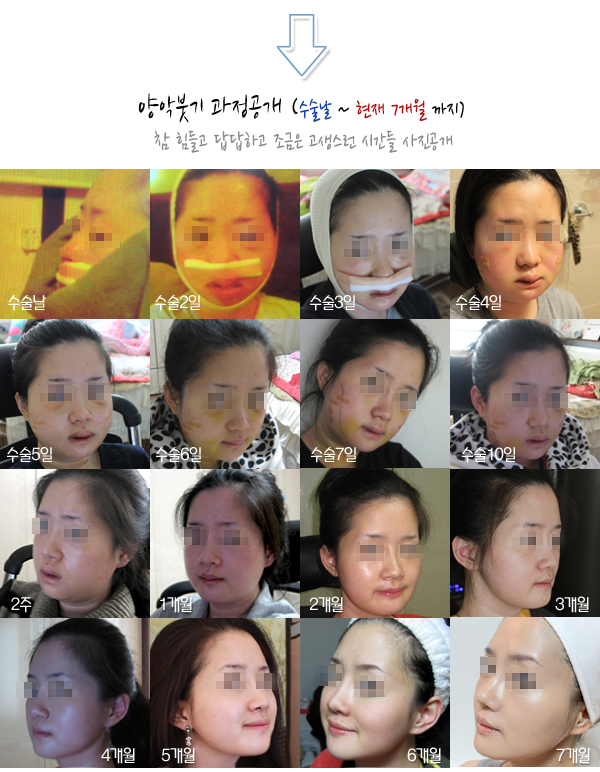 Swelling reduce progress (From the day of surgery to 7 months post surgery)
Real people, real results
ID Hospital, where happier faces are discovered.
(From facial bone to eyes and nose plastic surgery)
Tel (English Hotline):
+82-2-3496-9783 / +82-2-3496-9787 /+82-2-3496-9785
ID Mobile :
+82-10-3187-5905
E-mail:
doctor@idhospital.com
Skype / Kakao ID:
idhospitalkorea
New Address
:
ID Hospital, 142, Dosan-daero, Gangnam-gu, Seoul, Korea
(OLD address: ID Hospital, 5-6, Gangnam-gu, Seoul)
- Walk straight for 200 meters from exit 1 of Sinsa Station (line 3). We're located next to Young Dong Hotel.