Since celebrities and the internet display such beautiful 100 watt smiles, it's no wonder that there is such a high demand for orthodontic treatments. Also, because simple orthodontics can have a great impact on improving your facial contour, especially in the case of protruded mouth, more and more people are demanding orthodontic treatments.
However, for a more dramatic difference, sometimes a tooth must be extracted prior to orthodontic treatment in order for the facial contour to become much more balanced and proportional.
ID Dentist lead Orthodontics specialist states that, "Correcting the calibration in the protruded mouth must be done so by extracting the teeth. By improving the bite and eliminating the protruded mouth, well, it's two birds one stone, basically."
Through a non-extraction method, the bracing brackets will be used to pull the teeth together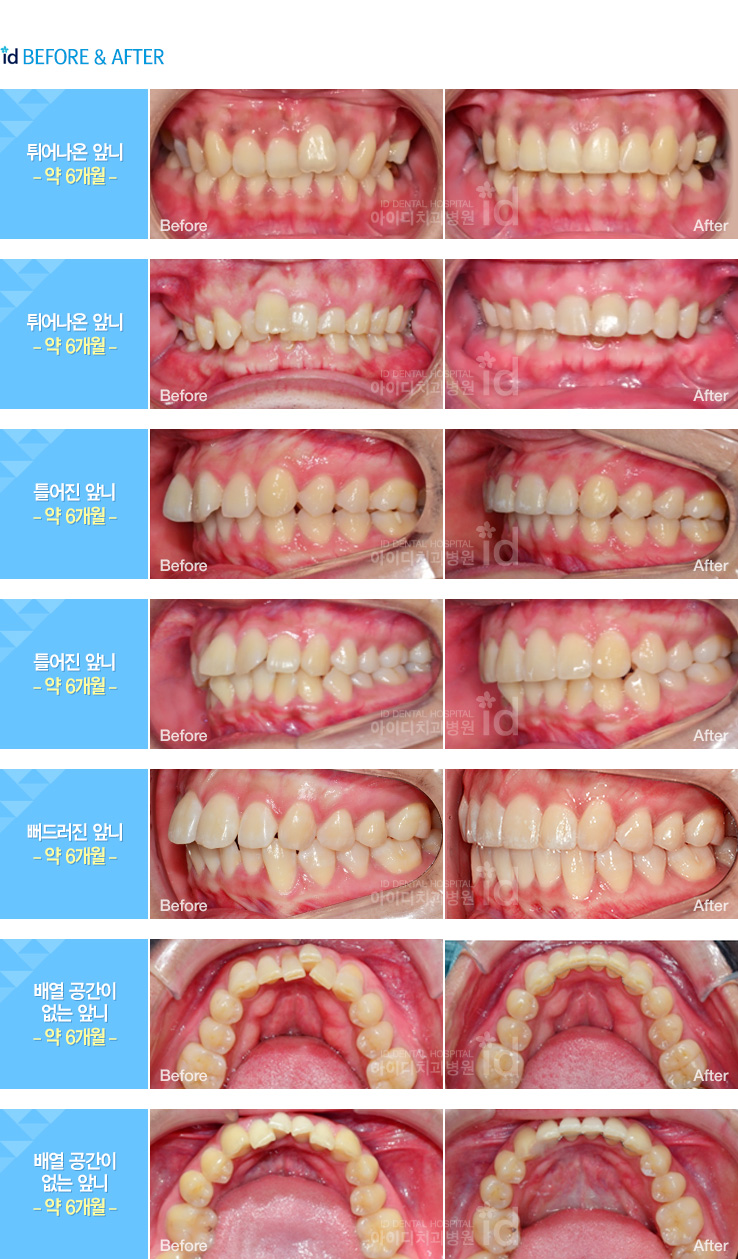 Real people, real results
ID Hospital, where happier faces are discovered.
(From facial bone to eyes and nose plastic surgery)
Tel (English Hotline):
+82-2-3496-9783 / +82-2-3496-9787 /+82-2-3496-9785
ID Mobile :
+82-10-3187-5905
E-mail:
doctor@idhospital.com
Skype / Kakao ID:
idhospitalkorea
New Address
:
ID Hospital, 142, Dosan-daero, Gangnam-gu, Seoul, Korea
(OLD address: ID Hospital, 5-6, Gangnam-gu, Seoul)
- Walk straight for 200 meters from exit 1 of Sinsa Station (line 3). We're located next to Young Dong
Hotel.
ID hospital korea review
ID hospital korea review
Eye surgery/Nose Surgery/ Fat Injection Surgery / eye job, nose job, dermal fat graft surgery / botox
breast augmentation, breast surgery, breast enlargement, breast job, boob job
K
orea cosmetic surgery / korea cosmetic plastic surgery / korea cosmetic plastic surgery before and after
korean cosmetic surgery / korea celebrity plastic surgery korea cosmetic surgery before and after (eye)
eye surgery / eye job / double eyelid surgery / eye revision surgery / secondary eyelid surgery
ptosis correction / non incision eyelid surgery / lower eyelid surgery / eyelid surgery / lateral canthoplasty
levator surgery / eyelid contouring surgery / lower blepharoplasty / upper blepharoplasty
epicanthoplasty / incision eyelid surgery
nose surgery / nose job / rhinoplasty / nose bridge / alar reduction / bridge augmentation / augmentation rhinoplasty / nasal tip / deviated nose / hump nose / short nose / long nose
cheek augmentation / facial contouring / laser liposuction / flat forehead / fat injection